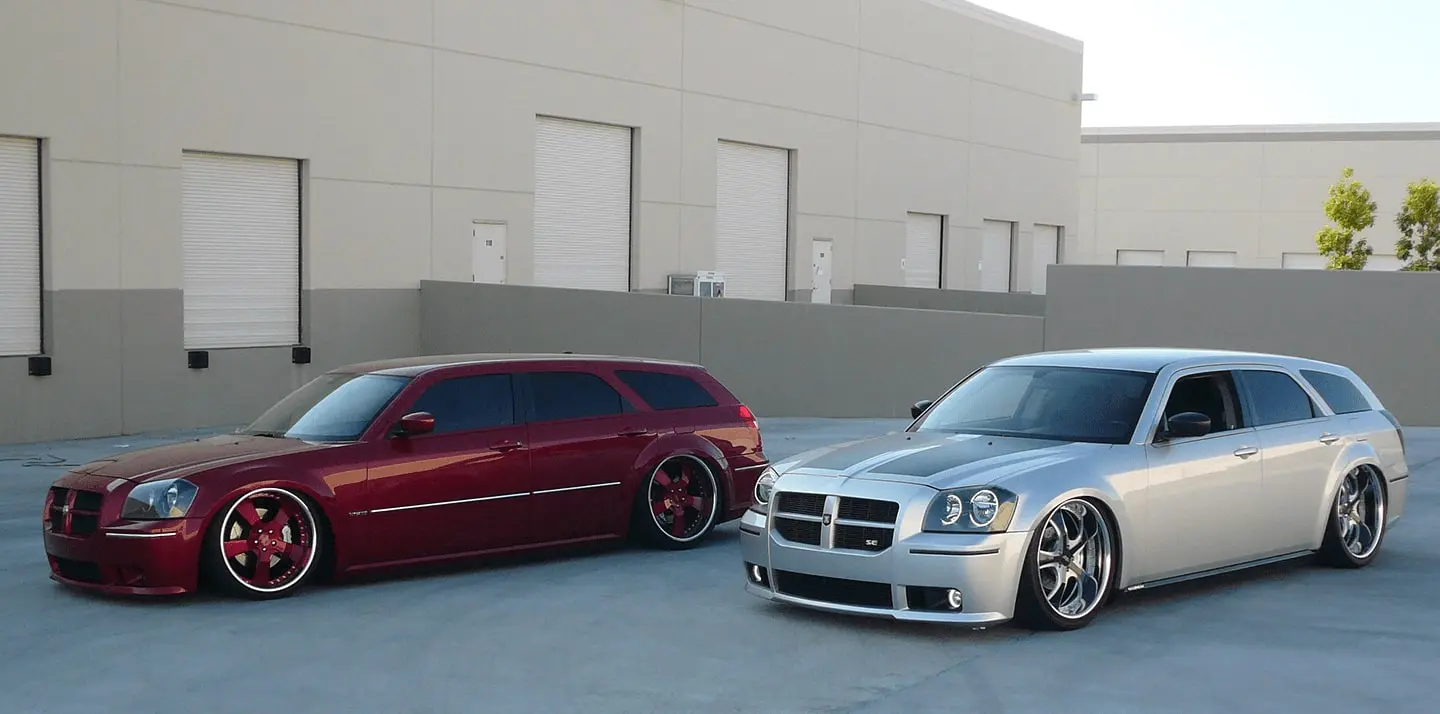 Universal Air Suspension/House of LowRiders
Universal (UAS) is an American company based in San Bernardino in LA. We have been using UAS since we discovered their double skinned airbags in around 2006. In all that time we have not had a bag fail (excluding fitting errors), and we have given them some serious abuse. Bags are made from modern materials and with some extremely clever designs, which were a revolution when they were first seen. The Aerosport bag takes much of the work out of creating a front struts and is ideal if you are building a custom vehicle or if a strut is not available for your vehicle.
Although we were initially drawn to the Strut bag, when we discovered the other bags they offer we were converted and have made them a part of many of our kits. Although the bags are rated at 110 psi (and warrantied as such) this does seem very conservative estimate and we have regularly used these bags at 200 psi and using 1/2 inch and even 3/4 valves (huge blast of air and huge movement that can injure or kill) with no failures. Several customers have used them on specific applications over 200 psi, and one customer regularly at an incredible 240 psi!!! We only discovered this when he asked about a higher pressure compressor!
As UK dealer we carry the entire range of Universal Air Suspension bags/springs and are happy to supply any bracket or other product in the UAS range. If a product is not listed please email or call as we can help.
High Tech Air Spring
The Double skinned bag takes all the complicated engineering away from the installer who needs custom struts. This is because the bag is already sealed which is the most difficult part. simply mount a spring pan 113mm down from the top of the pressure tube and the bag will lift up to 150mm from this point. They don't even need welding on many applications. These are ideal if you want to be ultra low or if there are no struts/shocks/dampers available for your vehicle. Perfect for classic cars.
Rugged little Bag
The 6 inch single convoluted bag looks like the poor cousin of the other bags in the range but don't let its tiny size fool you. This bag/spring may be small but it has a huge lift capacity, offers a great ride and most importantly on modern and small vehicles the single convoluted design does not expend when compressed. Traditional double convoluted bags get bigger when they are compressed  -i.e. when the car is lowered they can touch on the metal which causes failures. This bag does not do that.
Big Beefy Bag
This is the big daddy of the UAS bags. At 7 inches diameter it can lift a huge amount but only if its parallel. Any attempt to use this "off axis" wont work.
We use this on heavy vans. The usual thick synthetic rubber in combination with the multi-fit endcaps which pickup on imperial Firestone and such fittings make this a good replacement for old technology when changing perished old bags on old conversion kits.