AirRide no longer stock Dunlop Air Assistance Air Suspension kits. These were previously sold in addition to our own range of air suspension for vans, motorhomes and pickups. There is nothing inherently wrong with the Dunlop kits and they are fine for light weight vans but we found that a better stronger, more heavy duty product is available for Motorhomes (which constitute over half our customers) and which spend all of their time at or close to the maximum weight limit of the vehicle. For vans which can be loaded to the limit something with heavier specification components is needed.
To see this range of Dunlop Air Suspension kits please visit our new separate website at SHOP
Please note we also supply air suspension from Dunlop Systems and Components which is an entirely different company, products for which can be found HERE.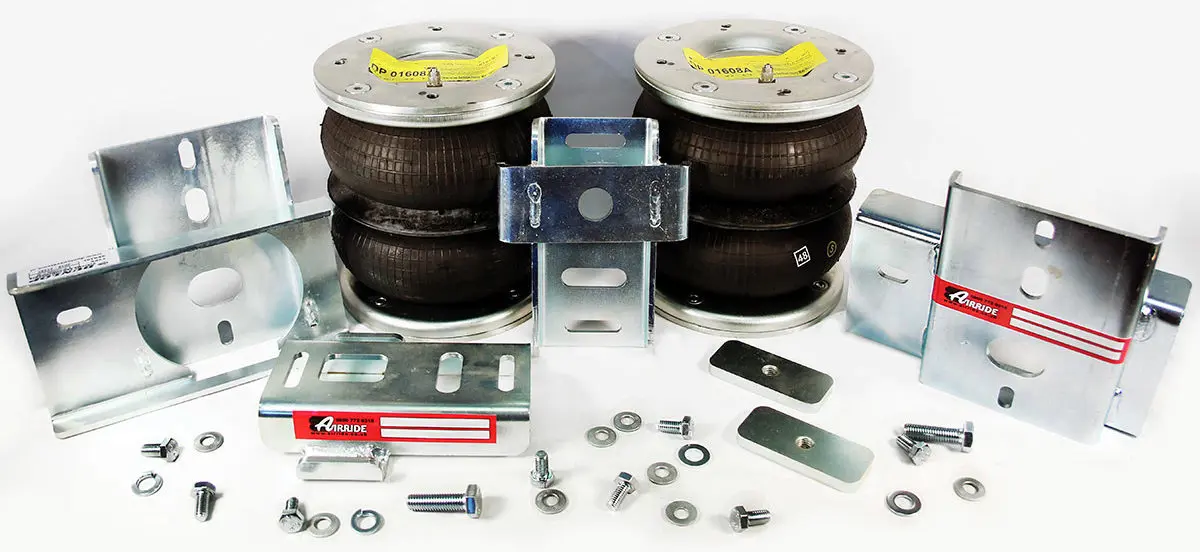 What does a Dunlop Air Suspension Kit do?
Based on several decades specialising in air suspension systems we believe that Dunlop load support kits are the very best quality air assistance kit on the market. The kits feature:-
Excellent and practical bolt-on installation which is rated as DIY or Local Garage Fit, so no need to travel hundreds of miles to an air suspension specialist.
Improves stability, reduces roll in corners at junctions and roundabouts and generally improve handling.
Recovers lost suspension motion to improve ride quality.
Lifts sagging vehicles to reduce or prevent grounding.
Reduces vehicle component wear.
Superb for towing and can have additional air pressure when towing or when a bike or other loaded items are used.
Can help pass an MOT if your vehicle is low.
Can help re-rating for heavier capacity on some vehicles.
Electroplated quality metal brackets made from high grade 5mm steel in most cases.
Properly secured brackets that won't slip around your axle, fracture or come adrift. No exhaust type clamps on any kits.
Proper automotive grade air springs (airbags) not factory grade or counterfeit as seen on many kits. Bags have at least 6 inches of lift potential.
Properly designed brackets mounted at points able to take the load – generally as bump stop replacements and wont damage your chassis as cheaper kits can.
Because we believe in the products we sell, AirRide offers a 5 year extended warranty on this product. (terms apply).
Full EU certification for legal use in EU and countries subject to equivalency.
These are quite simply the easiest fitting, best quality load support kits on the market. Their use in combination with AirRide's own management and control systems takes them to another level. Full product range available in the shop. Instructions with all kits, and full pre or post sale technical advice available.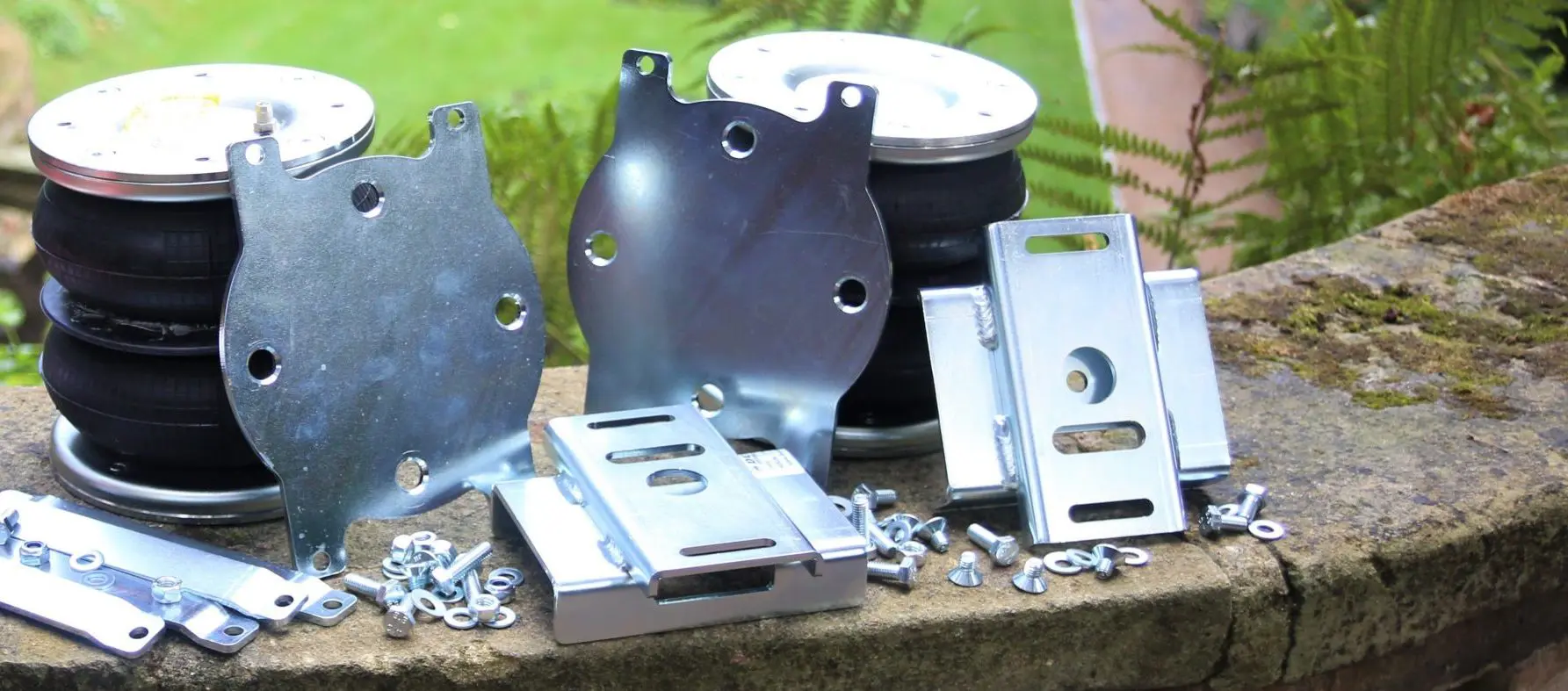 Warranty
AirRide Sales Limited offer a warranty on Dunlop air conversion kits for a period of 5 years from time of purchase. This warranty is limited to the original purchaser and subject to registration at the time of fitting. If you fail to register then a 1 year warranty is offered.
Management
Full range on management and control systems which vary from the basic Schrader (tyre) valves, to basic button controllers with small compressors right up to full computer systems. All kits have high quality brass fittings and nylon line for ultimate reliability.
Specifications
Get the very best from your air suspension with a management system. The highest specification Management systems allow levelling from outside the vehicle, and also allow users to lift the vehicle from the drivers seat when needed (rough sites, steep drives, ferries,,)
Management Options from AirRide
Dunlop bump stop replacement kits are load support kits fitted in addition to the original leaf springs. Heavy motorhomes with fixed loads are often fitted with simple control systems which can be as minimalistic as a schrader valve, or a schrader valve and gauge block. These work very well for fixed loads (fixed weight). When the load varies significantly then users tend to require On Board Air (OBA) kits. These enable users to get the very best out of the kits at all times. OBA allows ride characteristics to be adjusted for road, weather and load conditions and for those experiencing grounding conditions it allows the absolute maximum lift to be achieved when needed (Ferries, Petrol stations and rough site entrances), and then for the vehicle to be returned to the most comfortable setting. They are great for towing where loads are removed or for commercial vehicles which start the working day at one weight and end at another as deliveries are completed. OBA packages come in various specifications as outlined below. If in doubt please contact us via email or phone.
Schrader Valve
The simplest kit available. One fitting at the airbag, a length of line and a schrader (tire) valve at the other end. the valve can be fitted anywhere convenient to the user.
Schrader Valve Gauge Block
A gauge block with two schrader valves, and two gauges. No moving parts to go wrong (taps or levers often cease or leak). Pressure can be monitored from the block which can be fitted anywhere convenient.
Budget Duty OBA
Includes a 10% duty cycle compressor, maximum 105 PSI. Onboard Air Hookup Kit to match the compressor which comes with and on/off button to get to pressure. A cross locking mini valve. Please note that although the left and right are independent, they can not be set to different pressures. Does not include a tank. Used for infrequent adjustment. This is an entry level minimalistic control package.
Economy Duty OBA – (BEST BUY)
Includes a 15% duty cycle compressor, maximum 130 PSI, 2.0 gallon steel tank, Twin Paddle/Gauge controller, Onboard Air Hookup kit to match the compressor (remove the on off button as this uses a paddle controller). Please note: The left and right are independent and can be set to different pressures. Highly recommended best value for money. Slightly higher specification than the entry level kit.
Standard Duty OBA
Includes a 33% duty cycle compressor, maximum 150 PSI, 2.5 gallon tank, Twin Paddle/Gauge controller, Onboard Air Hookup kit to match the compressor. Please note: The left and right are independent and can be set to different pressures. Used for regular adjustment.
Premium Duty OBA
Includes a 100% duty cycle compressor, maximum 200 PSI, 200 psi tank, Twin Paddle/Gauge controller. Used for daily adjustment. Top General spec.
Ultimate OBA
Includes a 100% duty cycle compressor, maximum 200 PSI, 200 psi tank. Used for daily adjustment. Top  spec, includes computer controller with presets and standard height adjustment for general running but can be overridden when conditions require.
If you need further clarification, or your needs are not listed then please do call 0800 772 0315 or email ENQUIRIES@AIRIDE.UK and we will be very happy to help, or to raise a personal quotation.
These pages are being updated. Please visit our NEW SHOP for latest prices and to place an order. Alternatively please feel free to EMAIL or call 0800 772 0315.