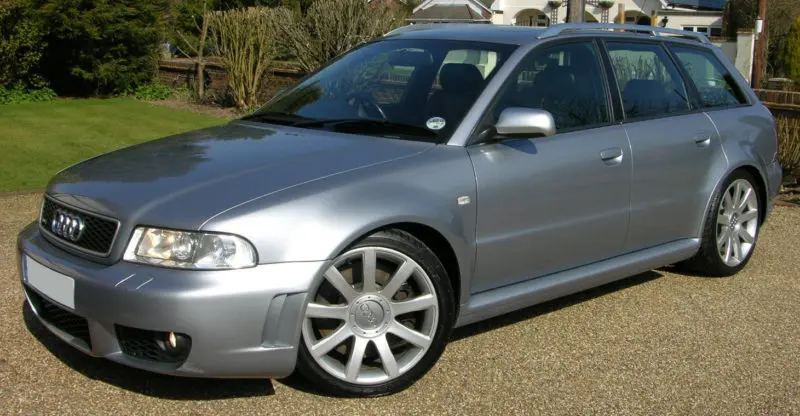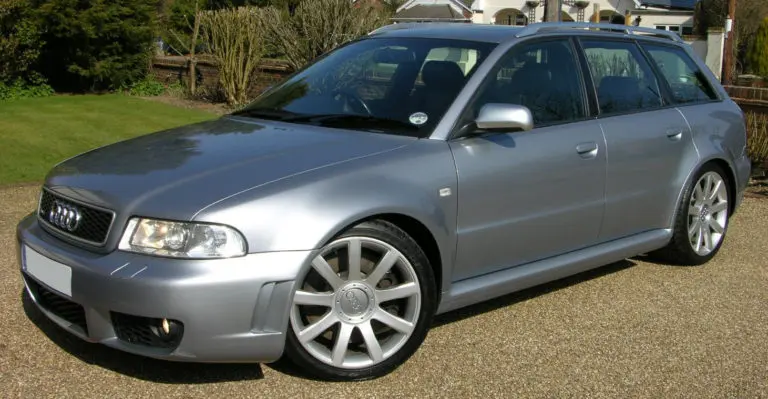 Where the Audi A4 was the height of class in an executive saloon, The RS4 was its bigger badder cousin. As a sports compact the RS (Literally Racing sport) represented the highest spec of the audi models.
Contact us with the specifcations you need!
ALL ABOUT AIR SUSPENSION
What air suspension is, and why you should choose an AirRide kit
What is air suspension?
Air suspension basically involves replacing the metal suspension springs in your car with air bags, or air springs. This means you can drop your car to the ground (or set it to any height you wish) and constantly adjust the height of your car after installation and while on the road.
AirRide have been manufacturing and selling air suspension kits for over 20 years. We pride ourselves on supplying the very best kits available, with components chosen for reliability and safety. No-one else has our experience, knowledge of as many air suspension markets, or product range. We never compromise on safety to get costs down, and even our basic kits far exceed minimal functional requirements.
We are your go-to, one-stop-shop for all your air needs. Read on to get your car on air.
Specifications
ALL our car kits:
Include full technical phone and email support from us during installation, if needed
Can be tailored to your needs. We can either provide or make the ideal kit for your car
Use high-spec nylon line as standard.
Have high-pressure, high-specification aluminium tanks as standard
Have high-spec, 100%-duty-cycle, high-pressure compressors as standard
Safety
Specifications vary but safety never does! ALL our car kits:
Are fully circuit independent, with four circuits: front, back and side to side. We do not offer two-circuit systems for cars, as they are neither safe or legal for road use
Use the highest-quality, leak-free unions
Include safety-pressure relief valves
Includes an air tank gauge, if your kit includes a tank
AIR MANAGEMENT
Air works best with air management. Find out how to control your air here
Basic kits
If you're only looking for something simple, we can still provide exactly what you're after.  If you want air suspension without all the bells and whistles, we offer single-axle bag/bracket or strut kits or basic Schrader (tyre) valve kits with no on-board air.
If you want a bit more but still don't want solenoids or a computer system, you can opt for a manual paddle control kit, which uses four electric-window-style paddles to control your air on each corner of the vehicle.
Solenoid kits
If you're looking for something a bit more sophisticated, you may want to install solenoids as part of your system. These are a little bit more complicated to install than a manual paddle control kit or a computer kit, but they are more versatile and take up less space.
The speed of your air system depends on the size of solenoid you choose, meaning you can go for what you feel is right. Solenoids can also be used with electronic and remote controllers.
Computer kits
The best and most advanced way of controlling your air is with a digital computer system. There are several different computers you can opt for, depending on your budget, but most computer kits have several features not available with solenoids.
You can have computers that have programmable pre-sets, meaning you can change your ride height with one touch, computers that can automatically change your height to suit the road conditions, and some computers that can be used with a phone app, among lots of other cool features, depending on which system you choose.
WHAT'S IN A MANAGEMENT KIT?
Exactly what you get in the box with each air management kit
Manual Paddle Control (MPC) kit
This is the most basic management kit. It's easy to install, has the least amount of kit to fit, is reliable and can be upgraded for more sophistication later. MPC kits include:
Front and rear air suspension
Four manual paddle controls (one for each corner)
100% duty cycle compressor
Three-gallon (US) air tank
Two dual-needle gauges (for reading pressure in the air bags)
One single-needle gauge (for reading pressure in the air tank)
An easy-to-fit airline (1/4")
Leak-free fittings
PRV, pressure switch, relay
Solenoid kit
The solenoid kit is also easy to install, albeit slightly more complicated than the MPC kit, reliable and can be upgraded to a computer kit later. Solenoid kits include:
Front and rear air suspension
Four electric suspension switches (one for each corner)
Eight solenoids (can be upgraded to various speeds) OR four manifolds of two solenoids each
100% duty cycle compressor
Three-gallon (US) air tank
Two dual-needle gauges (for reading pressure in the air bags)
One single-needle gauge (for reading pressure in the air tank)
An easy-to-fit airline (1/4")
Leak-free fittings
PRV, pressure switch, relay
Computer kit
Computer kits are the easiest kits to install and still super reliable. They include:
Front and rear air suspension
Auto Pilot V2, AirLift 3P or AccuAir computer controller
Three-gallon (US), 200 PSI tank
100% duty cycle compressor
A computer display (which means no gauges are necessary)
A phone app that can be used to control your air in or outside the vehicle
An easy-to-fit airline (1/4")
Leak-free fittings
PRV, pressure switch, relay
AIRRIDE RANGES FOR YOUR VEHICLE
The types of AirRide kit available for your car. Each one offers something different
AirRide Custom
AirRide Custom is a range of kits that we build to order.
We have lots of Custom kits already listed in our 'Shop' section, but if you can't find a kit for your car we should still be able to build a Custom kit for you – just call us or send us an e-mail.
AirRide Gold
AirRide Gold is our bolt-on range of direct fitment air suspension conversions. Gold kits are simple to install, offer a great level of drop and give a smoother ride than most other custom car conversions. They are ideal for anyone looking for a sporty ride, or anyone looking for a quicker and easier install than a Custom kit offers.
Air Lift Performance
Air Lift is the most famous name in air suspension in the US but they don't trade in the UK so we have decided to bring their kits to you.
Our Air Lift Performance kits combine Air Lift struts and bags with AirRide air management and safety features.

Advantages
AirRide Custom kits:
✅ Can be tailor-made to your vehicle's exact specifications, meaning they should always be a perfect fit
✅ Can be made for almost any vehicle, no matter how rare
✅ Are made by us, here at AirRide, ensuring the highest-quality standards available
✅ Are designed from the ground up to ensure they work best with your vehicle. For instance, our T5 kits have specially-designed front struts to support a heavier air bag
✅ Offer a really smooth ride and much better handling than standard suspension
Whats in the kit
It's impossible to say exactly what's in an AirRide Custom kit because each one is made from scratch to suit your vehicle's needs!
If you want to know exactly what you'll be getting, either before or after ordering the kit, call or email us and we'll be happy to tell you once we know your vehicle and any necessary measurements.

Advantages
AirRide Gold kits:
✅ Are bolt-on fit, meaning they're so easy to install any garage should be able to fit it, and you might even be able to install it yourself
✅ Are double-adjustable. During installation, you can choose precisely how low your car naturally sits, while you can also alter your height as much as you wish after installation with air management
✅ Allows your car to drop incredibly low for the sportiest ride around. Gold kits offer a lower drop than any of our other kits
✅ Will be yours sooner than a Custom kit as we don't have to build them – which make them cheaper too!
Whats in the kit
Here's exactly what you get in your kit:
⭐ Two front car performance air struts
⭐ Two rear car performance air struts
⭐ Four air bags, one for each corner (built into struts)
⭐ Viair 444C compressor or equivalent
⭐ Necessary brackets, bolts and fittings to install the system
⭐ A computerised air control system from our standard or deluxe range

Advantages
Air Lift Performance kits:
✅ Are very simple to install, with many kits able to bot straight on to your vehicle
✅ Offer a good amount of drop and a low ride height (if that's what you're after!)
✅ Give a much smoother ride and better handling than standard suspension
✅ Are available sooner, and are less expensive, than AirRide Custom kits because we don't have to build them!
Whats in the kit
Here's what you get with an Air Lift Performance kit:
⭐ Two performance front air-over shocks
⭐ Two rear shocks with damping adjustment
⭐ Integrated air springs
⭐ All include sealed leader hoses to ensure longevity
⭐ All the necessary mountings, fittings and brackets to install the system
⭐ Detailed fitting instructions
Installation Details:
Modifications Req. Front: Drill 3/8" hole for damping adjustment. Other modifications required for maximum drop
Modifications Req. Rear: Trim coil spring seat 1/4″
The manual kits are the simplest, lightest and most compact kits that we do.
There are a large number of options available to increase the speed, air capacity or control systems.
Our basic manual kits are suitable for adjustment whilst driving and these are the most popular systems.
The digital kits offer faster speeds and the ability to add on extras such as remotes etc.
These are popular for show cars and also for those who just want that extra wow factor.
They come with digital sensors and a digital display where you can set ride height pre-sets.
We recommend aluminium tanks as these don't rust, and that you go for the best compressor your budget allows.
Maintenance is fairly low requiring the bags be washed down and the tanks drained every now and then, also do a leak test once or twice a year.
Air Suspension is proven technology that is in use on most Lorries and trucks today. All kits come with a 1 year warranty. Life expectancy for parts is around 5 to 10 years but can be longer.
Core setup is the same for each kit bags, brackets and struts.
Take a look at our help sections for more information on tanks, compressors and controllers.
The front kit features a serious 3.9" drop from stock height using double bellows air springs over the new shocks. The rear kit features an incredible 5" drop and uses a double bellows spring with a separate shock. These drops are not limited by the shocks, in the case chassis modifications are done to go even lower (over 5" drop possible in front).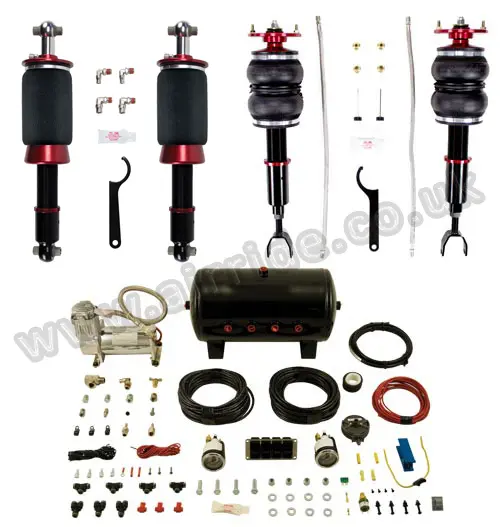 Manual Combo Kit
Includes everything necessary for installation!
Manual Paddle Valve Control System
Front Air-over Shock Kit
Rear Air-over Shock Kit
Detailed instruction manual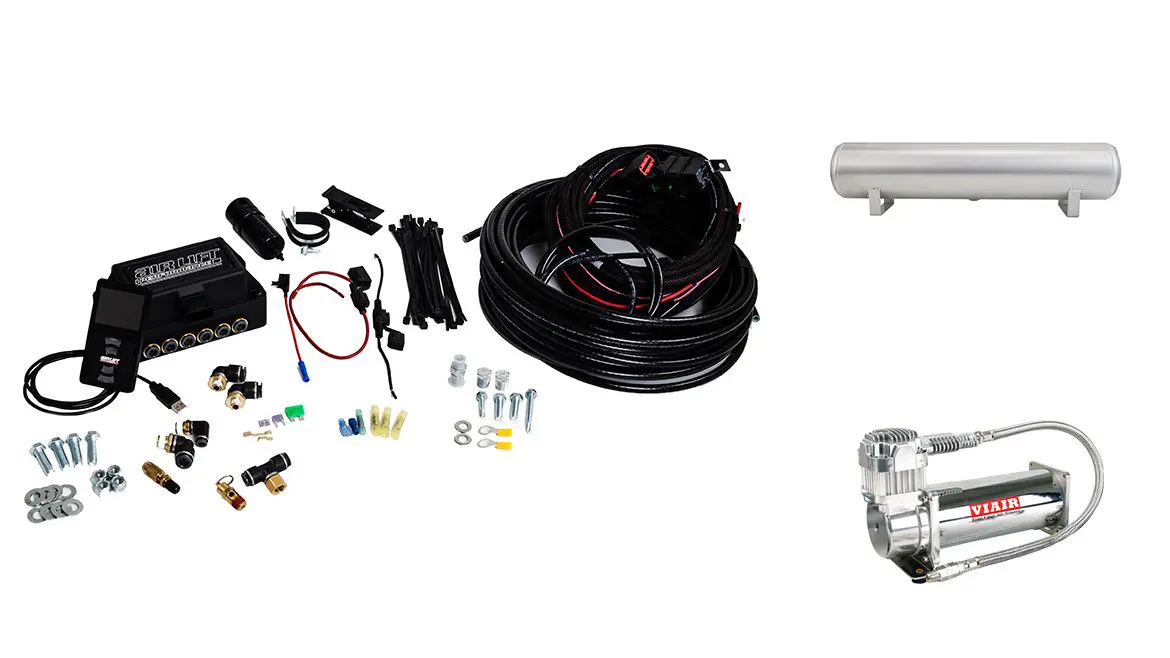 Digital combo kit
includes everything necessary for installation!
Autopilot v2 Digital Control System
Front Air-over Shock Kit
Rear Air-over Shock Kit
Detailed instruction manual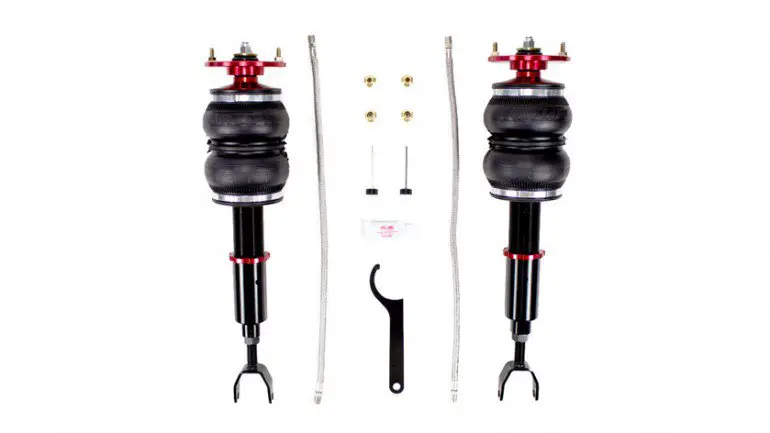 Front Kit
Includes the following items:
Pair of front air-over shocks 30-level damping adjustment
Red anodized aluminum upper mount
Braided stainless steel leader hoses
Damping adjuster knob
Height adjustment wrench
1/4" & 3/8" PTC fittings
All mounting hardware
Detailed instruction manual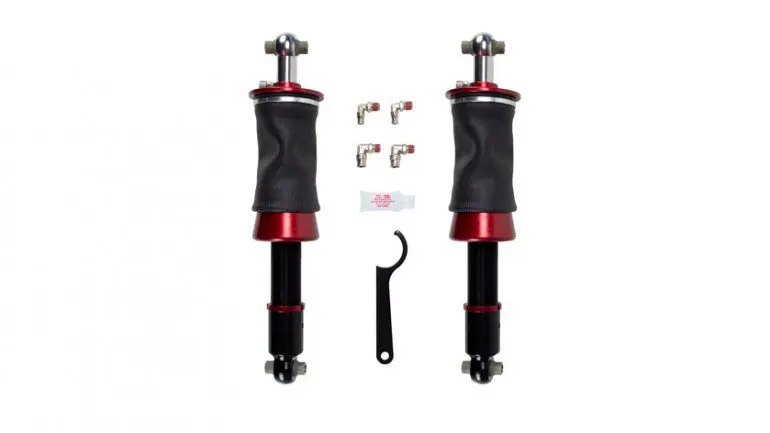 Rear kit
Includes the following items:
Pair of air-over 30-level adjustable rear shocks
Height adjustment wrench
1/4" and 3/8" PTC fittings
All mounting hardware
Detailed instruction manual